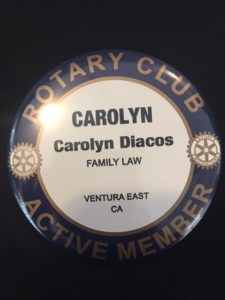 In August 2017, Carolyn Diacos completed the requirements to attain her coveted "Blue Badge" at the Rotary Club of Ventura-East. To receive a Blue Badge, every Rotarian must complete specific tasks designed to expose themselves to as many aspects of the organization as possible, and to familiarize themselves with as many club members as possible.
The motto of Rotary is "Service Above Self." As such, the Rotary Club of Ventura-East practice their pledge through five Avenues of Service Committees: Club Service, Community Service, International Service, Vocational Service and Youth Service. The Rotary Club of Ventura-East has provided 54 years of service to the community and the world. The Rotary Club of Ventura-East supports many non-profits, such as the YMCA, Boys and Girls Clubs, Food Share, and the Ventura Botanical Gardens.
As a Rotarian, Carolyn's pursuit is to improve the well-being of our local veteran population and their families.